For Children
Orthodontic treatment can be carried out for children under the NHS or privately. We offer a wide range of orthodontic options and will discuss with you and your child the various options available. If treatment is to be arranged privately we will discuss with you any cost implications and provide you with a written estimate.
NHS
We offer NHS orthodontic treatment to young people under 18 years of age, who are eligible for treatment under the guidelines set out by our Local Health Board.
Private
Those who choose to have private treatment benefit from a greater choice of appliance and do not have to wait on the NHS waiting list. We can use Tooth Coloured Braces or Invisible Braces when we carry out private treatment."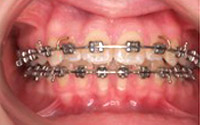 Fixed appliances are the most commonly used braces today, because they allow accurate positioning of the teeth. Today's NHS metal braces are slim line, unobtrusive and comfortable to wear. They can achieve excellent alignment of teeth in short periods of time.
The braces are securely fixed onto the teeth and cannot be removed by the patient. Little coloured elastic bands hold the wire to the brackets and you can choose your favourite from a range of colours.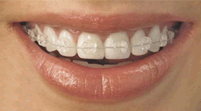 Fixed braces are now available with clear or Tooth Coloured brackets, dramatically reducing the visibility of fixed braces. They can be provided privately for children and are particularly popular for adults, where aesthetics are of the utmost importance.